Gary Kollin
Attorney Profile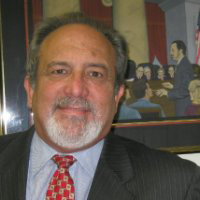 For over 36 years Gary Kollin has fought to protect the rights of all people in the criminal courts, appellate courts, and in police misconduct, false arrest and civil and constitutional rights cases. Gary Kollin cut his teeth working as a state prosecutor, public defender and chief of a state agency investigating Medicaid fraud.
Gary Kollin prosecuted 1,000s of felony cases while serving as a division chief in the State Attorney's Office. As a public defender he represented a multitude of clients charged with felonies as well as juveniles charged with all levels of crimes.
After trying hundreds of cases as a prosecutor and public defender, Gary Kollin became a chief of the Auditor General's Medicaid Fraud Unit. He headed a unit which investigated doctors, pharmacists, nursing homes and other health care providers for cheating the public by stealing funds for the poor and disabled.
In 1987, Gary Kollin entered private practice. He took the years of experience in governmental practice and uses them to provide preeminent legal services.
When bad men combine, the good must associate; else they will fall, one by one, an unpitied sacrifice in a contemptible struggle.
Edmund Burke
EDUCATION
JURIS DOCTOR, JUNE 1979
UNIVERSITY OF MIAMI SCHOOL OF LAW
BACHELOR OF ARTS, JUNE 1975
HARVARD UNIVERSITY; MAJOR IN BIOLOGY
HONORS
MARTINDALE – HUBBELL "AV" RATED
MILLION DOLLARS ADVOCATES FORUM (MEMBERSHIP IS LIMITED TO TRIAL LAWYERS THROUGHOUT THE UNITED STATES WHO HAVE WON A VERDICT OR SETTLEMENT OF $1,000,000 OR MORE)
A LEADING FLORIDA LAWYER IN THE AREA OF FELONIES & MISDEMEANOR CRIMINAL DEFENSE LAW BY THE AMERICAN RESEARCH CORPORATION (LESS THAN 6% OF FLORIDA LAWYERS HAVE BEEN SELECTED)
NOMINATED TO THE GOVERNOR BY SEVENTEENTH JUDICIAL CIRCUIT JUDICIAL NOMINATING COMMISSION FOR CIRCUIT COURT JUDGESHIP IN 1986
WHO'S WHO IN AMERICAN LAW
OUTSTANDING YOUNG MAN IN AMERICA
MENSA (TOP 10% IQ ORGANIZATION)
GRADE REVIEWER, FLORIDA BAR CRIMINAL LAW CERTIFICATION COMMITTEE, 1999, 2004, AND 2010 EXAMS
FORMER MEMBER, FLORIDA BAR 17TH JUDICIAL CIRCUIT UNLICENSED PRACTICE OF LAW COMMITTEE
FORMER MEMBER, FLORIDA BAR 17TH JUDICIAL CIRCUIT FEE ARBITRATION COMMITTEE
FORMER MEMBER, FLORIDA BAR CRIMINAL APPELLATE PRACTICE COMMITTEE
"SUPER LAWYER" RATING IN CIVIL RIGHTS LAW, APPELLATE, AND CRIMINAL LAW BY SUPER LAWYERS MAGAZINE
HARVARD CRIMSON KEY SOCIETY
"TOP LAWYER" IN SOUTH FLORIDA RATING BY THE NATIONAL LAW JOURNAL
EXPERT AND SPECIALIST IN CRIMINAL TRIAL LAW
EXPERT AND SPECIALIST IN CRIMINAL APPELLATE LAW
EXPERT AND SPECIALIST IN POLICE MISCONDUCT AND ABUSE LAW
EXPERT AND SPECIALIST IN SECTION 1983, CIVIL RIGHTS AND CONSTITUTIONAL LAW